"I took my money and invested in real estate. When everyone was scared and thought the city was going to the dogs, I bought every acre I could lay my hands on until I had 2,200 acres in this city." This quote was made by
Adolph Sutro
, a German American Jewish engineer, self-made millionaire, and San Francisco's 24th mayor.
The quote by Sutro represents the major impact his influence and stewardship had on the city of San Francisco and Forest Hill real estate. From the 1880s into the twentieth century, Sutro gobbled up land and planted thousands of trees. He created huge swaths of the forest right in the middle of San Francisco. Without the creation of these forests, Forest Hill would have a totally different presence. The wide tree-lined streets and homes rambling around the curve of the hills would most likely be replaced with homes in a tight grid fashion. The variety of architectural interests would most likely not be present, and the feel of a village's quaintness would be missing. Luckily for those looking to spread out a bit from small city flats, Adolph Sutro had the mindset to provide stewardship to the tract of land that makes up the Forest Hill neighborhood today.
The Forest Hill neighborhood began development as one of only eight master-planned resident parks in San Francisco in 1912, and the clubhouse was completed in 1920. This gathering place for the newly established Forest Hill neighborhood is surrounded by mature trees and is decorated with brick patios and courtyards. Its vaulted beamed ceilings and detailed woodwork make it a great venue for numerous events throughout the year. The
Forest Hill Musical Days
are a highlight of those events. Development continued off and on for over 50 years in this neighborhood, and this construction makes up the wide variety of homes that are the present-day Forest Hill real estate.
Living in Forest Hill today
Located on the western side of town and following the hills' contours are wide, heavily tree-lined streets with sensational vistas. Depending on how a home is situated within the neighborhood, you may experience a view of the Pacific Ocean, the Golden Gate Bridge, or the San Francisco Bay. Everything about living in Forest Hills gives you the feeling of space. The streets were originally designed for horse and carriage and thus are wider than most streets. They are peppered with approximately 650 homes with varied architectural styles. Several homes, along with the neighborhood clubhouse, were designed by
Bernard Maybeck
. He is twice honored by the American Institute of Architecture and is famous for several designs in the San Francisco area. The homes are large and represent a wide variety of styles all intertwined together, giving this community major architectural interest. While the first home was completed in 1914, many of the homes were built after World War II in the late 1940s and 1950s. The style of homes ranges from detailed Tudors and prominent stone homes to sprawling split-level mid-century modern homes.
These Forest Hill homes are married with plants, trees, and lush gardens that embody the neighborhood. The Community Garden Club is also active in maintaining community garden spaces. Most of the homes have well-maintained and manicured landscaping. Outdoor patio spaces make for the perfect opportunity to host a get-together and to celebrate your new home and amazing outdoor space! Residents have the feeling of being remote from the city while still being in close proximity to local restaurants for nights you want to order in. This calming and enchanting neighborhood is the perfect alternative to living in the heart of the city.
Perfect location
West Portal Avenue is a few blocks south of the Forest Hill neighborhood and offers quaint shops, restaurants, and necessities. Shops consist of bookstores, a florist, and boutiques. Italian, French, Japanese, and Brazilian restaurants are all just a few steps from your forested retreat.


To the north of Forest Hill is the Inner Sunset, which many San Franciscans call their favorite neighborhood. Eclectic shops with a funky edge and fabulous dining options are only minutes from home when you are living in Forest Hills. Enjoy a morning coffee at a small café, have a Turkish wrap from
Sumac
, or find just about any type of food you are in the mood for. With four ice cream shops within two blocks, the Inner Sunset is also super family-friendly.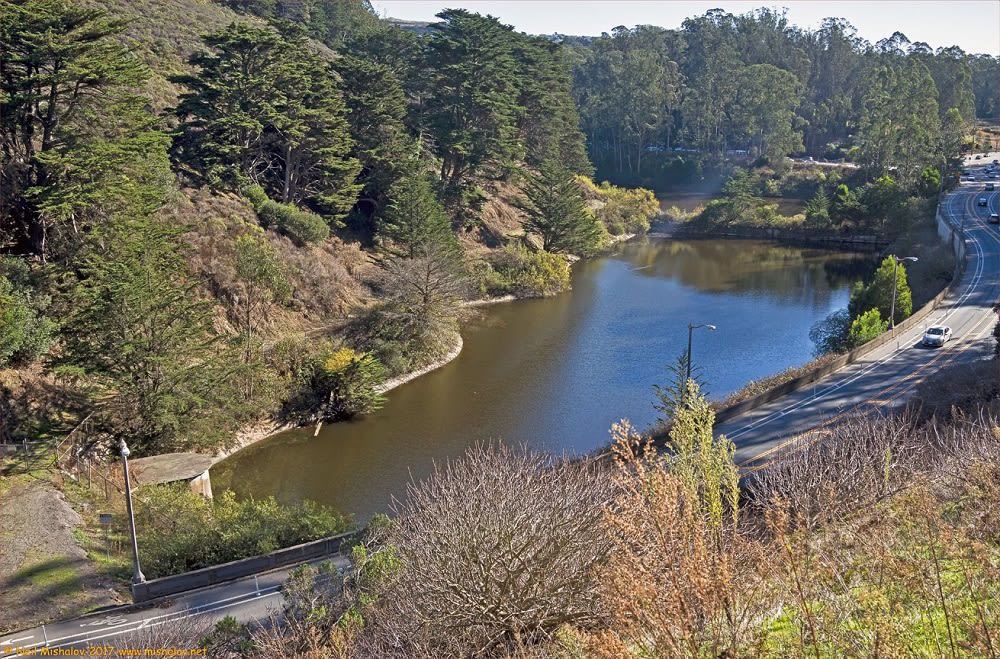 Laguna Honda Reservoir
Having a spacious backyard will give you plenty of outdoor space, but if the dog needs a place to run or you need a longer walk, the
Laguna Honda Reservoir
and Golden Gate Park are both close by. Walking the quiet, tree-lined streets of the Forest Hill neighborhood is also a great option for getting more exercise in your life without needing to go to the gym. Transportation is also readily available in the area. There are metro lines and bus services from the Forest Hill station on Laguna Honda Boulevard that make for a quick trip downtown.
As you can see, the location of this neighborhood is close to perfect. The neighborhood gives you the feeling of living outside of the city while still truly having everything the city can offer just minutes away.
Classic family neighborhood
The Forest Hill neighborhood is comprised of families of all kinds, adding a city vibe while living in what feels like a suburban area. If you are looking to leave behind your San Francisco condo and move to a peaceful oasis right in the city, Forest Hill homes for sale would be a great investment in a desirable neighborhood.
Looking for Forest Hill homes for sale?
If you're ready to take the next step, reach out to an experienced agent and San Francisco native
Dylan Hunter
to begin your search.