Successfully repurposing street space for the dining scene
The San Francisco Parklet program converts parking spaces into public spaces for dining and gathering. In San Francisco, 25% of the city's land is public, yet not all of it was being utilized in a productive, community-minded way. That's when parklets entered the picture. What began as one parklet in 2010 has blossomed into 59 outdoor spaces that are one of the
most adored
aspects of San Francisco living, and there are more popping up each day to make the most of San Francisco's limited outdoor space.
Optimizing parklets for outdoor dining was a proposal to keep businesses open during coronavirus in San Francisco, and now, people don't want it to stop. These urban oases tout numerous
benefits
for residents — a breath of fresh air while sharing drinks with friends can do wonders for the psyche while bolstering hyperlocal communities. Neighbors get to stay connected and support local businesses while enjoying time outside the house. With the city of SF fast-tracking the approval of parklets during the coronavirus pandemic, having these innovative outdoor structures kept beloved neighborhood restaurants, bars, and cafes open during uncommon times. Ultimately, amenities like these improved the quality of life in many of San Francisco's iconic neighborhoods and made people more likely to embrace where they live.
Let's take a look at some of the fantastic outdoor dining areas in San Francisco.
The Page
When the Covid-19 pandemic hit in 2020,
The Page
bar had to stray away from its indoor dive bar persona to continue serving customers. They built a $12,000 outdoor dining layout—an outdoor extension of the bar, where patrons can sit (six feet apart) and enjoy their usuals. The sweeping outdoor patio is sparkling new, but it manages to stay true to The Page's identity. Wooden barrels are sanitizing stations, taxidermy lines the walls, and old photos remind us of the bar's history. This parklet is everything you love about The Page in an inventive, outdoor setting.
Ungrafted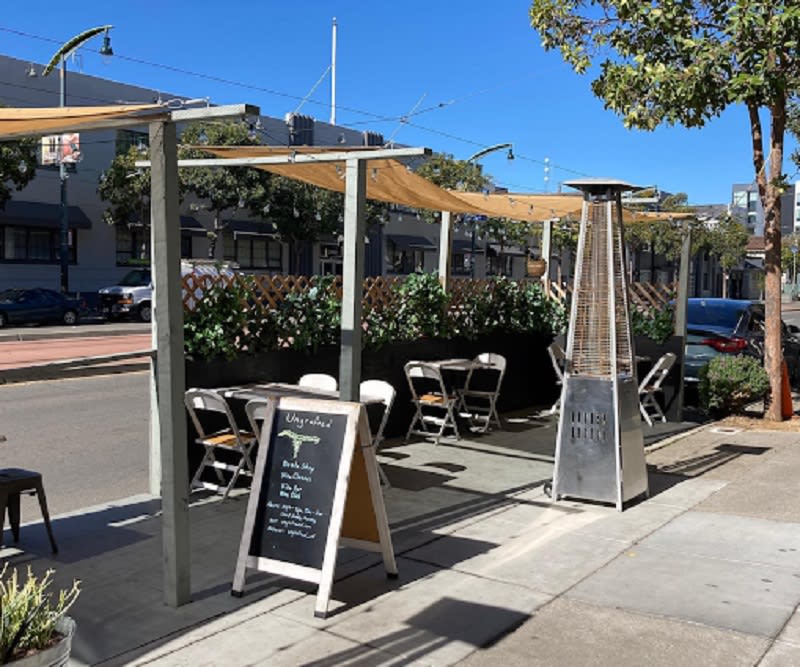 Credit: Ungrafted Facebook
Wine, cheese, time outdoors—
Ungrafted
has it all. This ultra-cool wine bar encourages you to try new things. Expert sommeliers will open bottles for you and pair them with a variety of foods. Order a bottle (or a tasting flight) and sit outside in their dining area with a few friends. It's the perfect night out!
Izakaya Rintaro
Izakaya Rintaro
is hip and delicious, and their outdoor patio fits right in. Diners sit on red crates and eat off of wooden tables. These are meant to complement the main building, which the owner's father built from hand-planed wood. The entire vibe is casual and cool, but the food is anything but simple. Try their $45 "yatai" (prix fixe) menu and let the chef select some seasonal favorites for you. You could also order off their impressive list of sake options.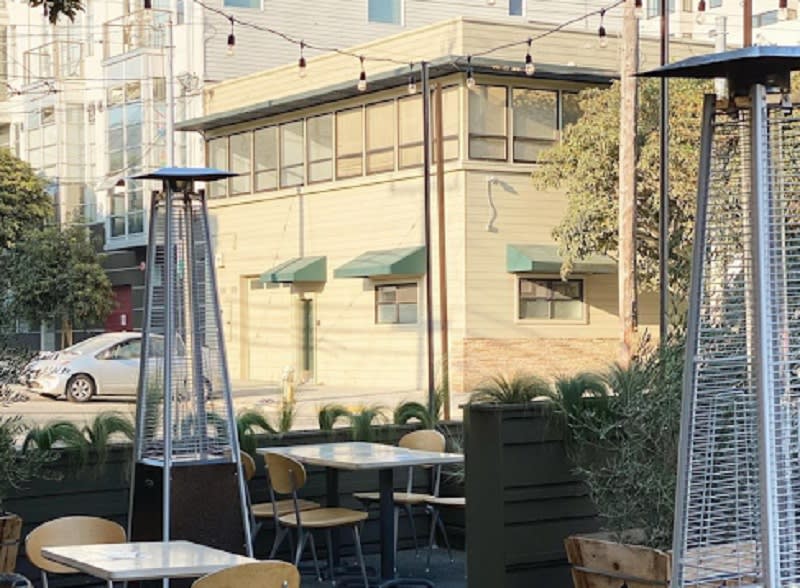 Credit: The Morris Instagram
This relaxed American eatery is a neighborhood staple. They recently built their outdoor dining area so diners could continue to visit and enjoy a full meal.
The Morris
offers delicious nibbles, like duck liver mousse and mushroom profiteroles. Starving? You could also go for the whole smoked duck. Regardless, be sure to sample wine from their extensive wine menu (curated by the restaurant's well-traveled owner, Paul Einbund).
Mägo
"Mägo"
means magician in Spanish. And, true to its name, this restaurant is nothing short of magical. They specialize in coastal Columbian cuisine and use only the freshest, most local ingredients. Their parklet is a peaceful place to eat great food. Sit at one of the long wooden tables and notice the gardens they've planted in matching wooden planter boxes. It's this attention to detail that makes Mägo so great, whether you're eating rice and beans or a spicy fried chicken sandwich.
Angler San Francisco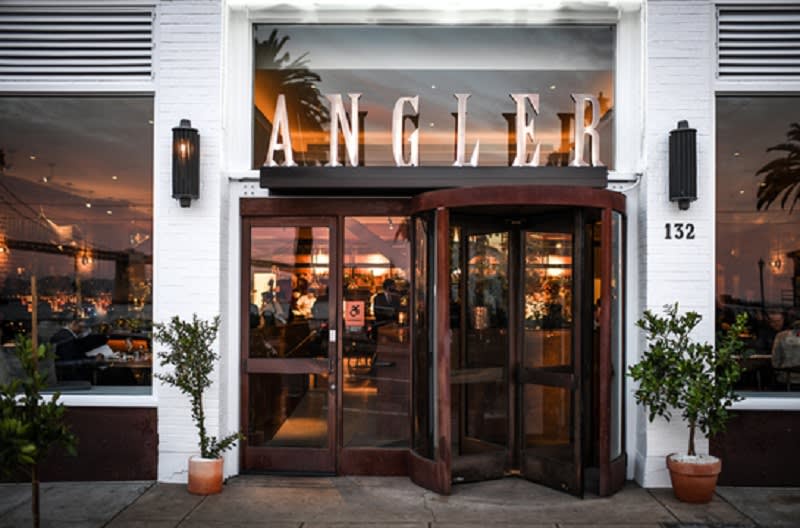 Credit: Resy Blog
A bit off the beaten path,
Angler
serves fresh local seafood cooked in a wood-burning hearth. Each day offers a new menu and a new variety of local catches to try. The Angler patio is a beautiful, comfortable place to get lost in excellent quality. Located right next to the San Francisco Bay, Angler's outdoor dining area is chic and classic. Sit under a heater at one of the large tables. Enjoy the view, order from their impressive wine menu, and take in this traditional San Francisco experience.
AltoVino
AltoVino
is a delicious Italian restaurant in Nob Hill. Aiming to "capture the spirit of the regional Italian table," this restaurant has become a neighborhood staple. The outdoor section is simple but quaint. Small cafe tables sit underneath the red awning, giving the entire location an Italian sidewalk cafe vibe. Enjoy their 10-hour pappardelle bolognese or their local King salmon. Their in-house sommelier would be happy to suggest a complimentary bottle of wine.
Pearl 6101
Pearl 6101
is all about California-inspired Mediterranean cooking. Located in the Richmond district, Pearl 6101 has a cozy vibe—it's the kind of place that invites you in for delicious food and a rest from the hectic every day. Their cute outdoor area offers wooden tables and chairs and has allowed people to continue to enjoy this neighborhood favorite. Seared scallops and olive oil cake are among some of their most delicious options.
Horsefeather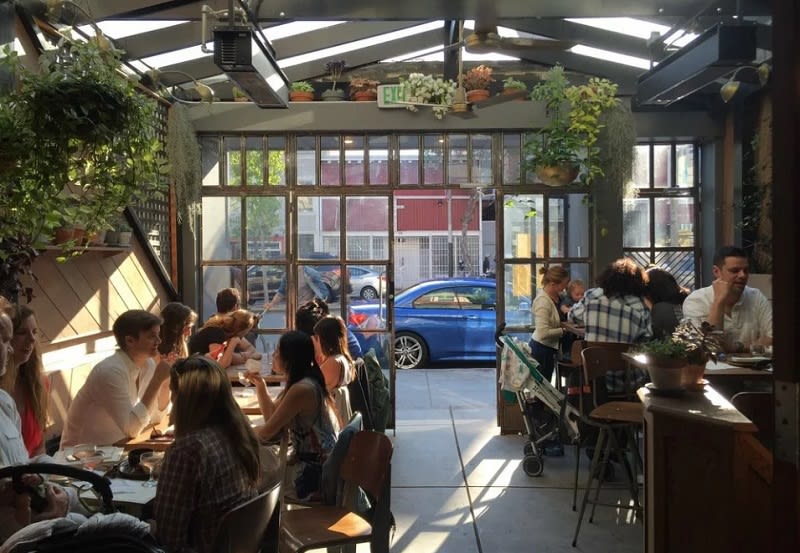 Credit: Hoodline
NoPa restaurant
Horsefeather
got creative building their parklet. Situated in front of the restaurant, this area features a tin roof and eating "cubicles" separated by wooden walls. Parties can feel private and comfortable in these individual booths. The restaurant continues to serve the New American cuisine for which it's known. And don't snooze on their cocktail menu! The California Cooler might just be calling your name.
Considering moving to San Francisco? If you'd like more information on Lake District real estate or homes for sale in Duboce Triangle, reach out to
Dylan Hunter
with all of your real estate needs!
*Header Image Credit: SF Gate