Search San Francisco properties for sale below:
Single Family Homes
Condominiums and TICs
With so much speculation and uncertainty right now, here is what the market is showing:
Inventory is up.
Fewer bidders, less competition and less multiple offers.
Sellers are being more realistic.
For those who have been waiting for the market to slow down, San Francisco real estate market's fast momentum has slowed since mortgage rates spiked in June.
There are great opportunities for both condo and single family home buyers, given the seasonal summer slowdown and the news surrounding higher interest rates. There is no guarantee of their trajectory in the coming days, weeks and months. Call me anytime to discuss the market further
A Few Datapoints:
Right now, homes are selling about almost one week slower now than this time last year in 2021. July 2021's average days on market figure was 31, now it is 36.
The CoreLogic Home Price Index is forecasting a 4.3% gain in home prices from June 2022 to June 2023.
Overall, high energy prices have played a large role in slowing down the overall economy. Lower gas prices would be good for long-term rates like mortgages.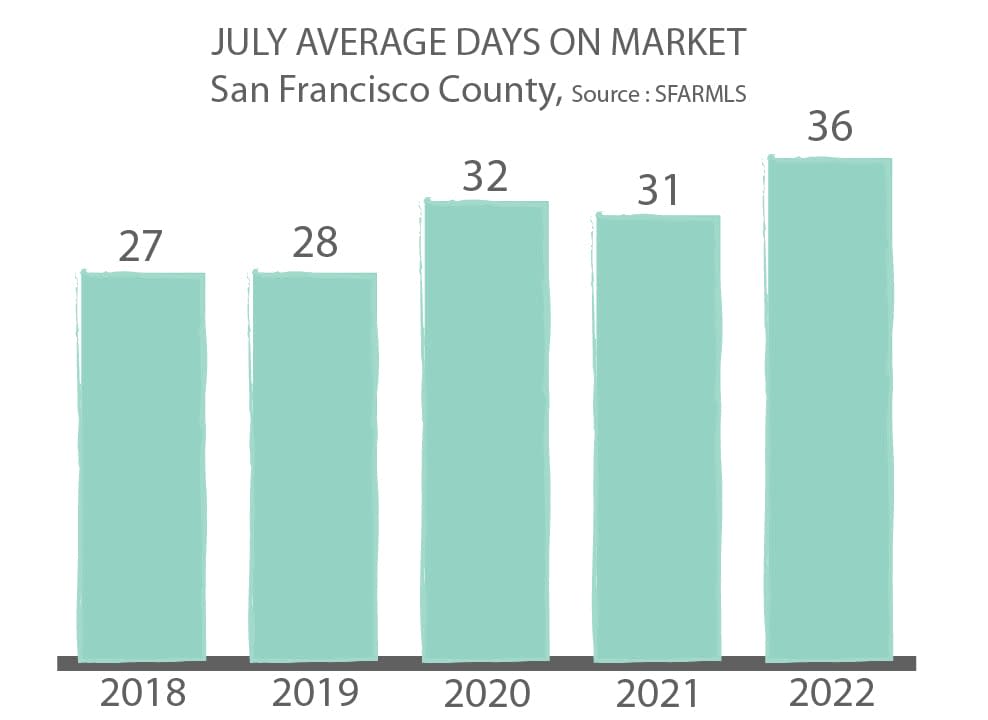 Even in post pandemic 2021, the average amount of time that it took to sell home was about a month. However, the median days on market figure was 14 days around July 2021. Current median DOM is 22 days.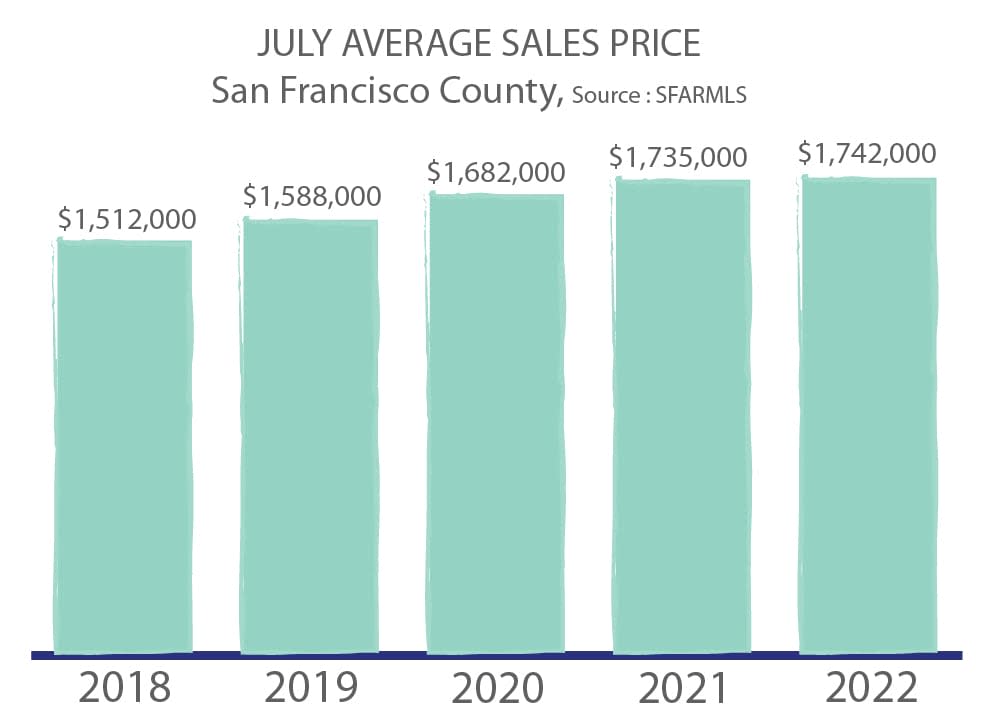 San Francisco's average sales price is roughly about the same as last year for homes and condos combined. When comparing today's market with past years, I include 2018 and 2019, the most recent pre-pandemic market years. Home price appreciation plateaued after 2022's mid-year mortgage rate hike. Even with the market slowing down, it is still a great opportunity to purchase given available inventory and seller motivation. The CoreLogic Home Price Index is forecasting a 4.3% gain in home prices from June 2022 to June 2023.
We also know that mortgage rates have come down and are similar to 2018 levels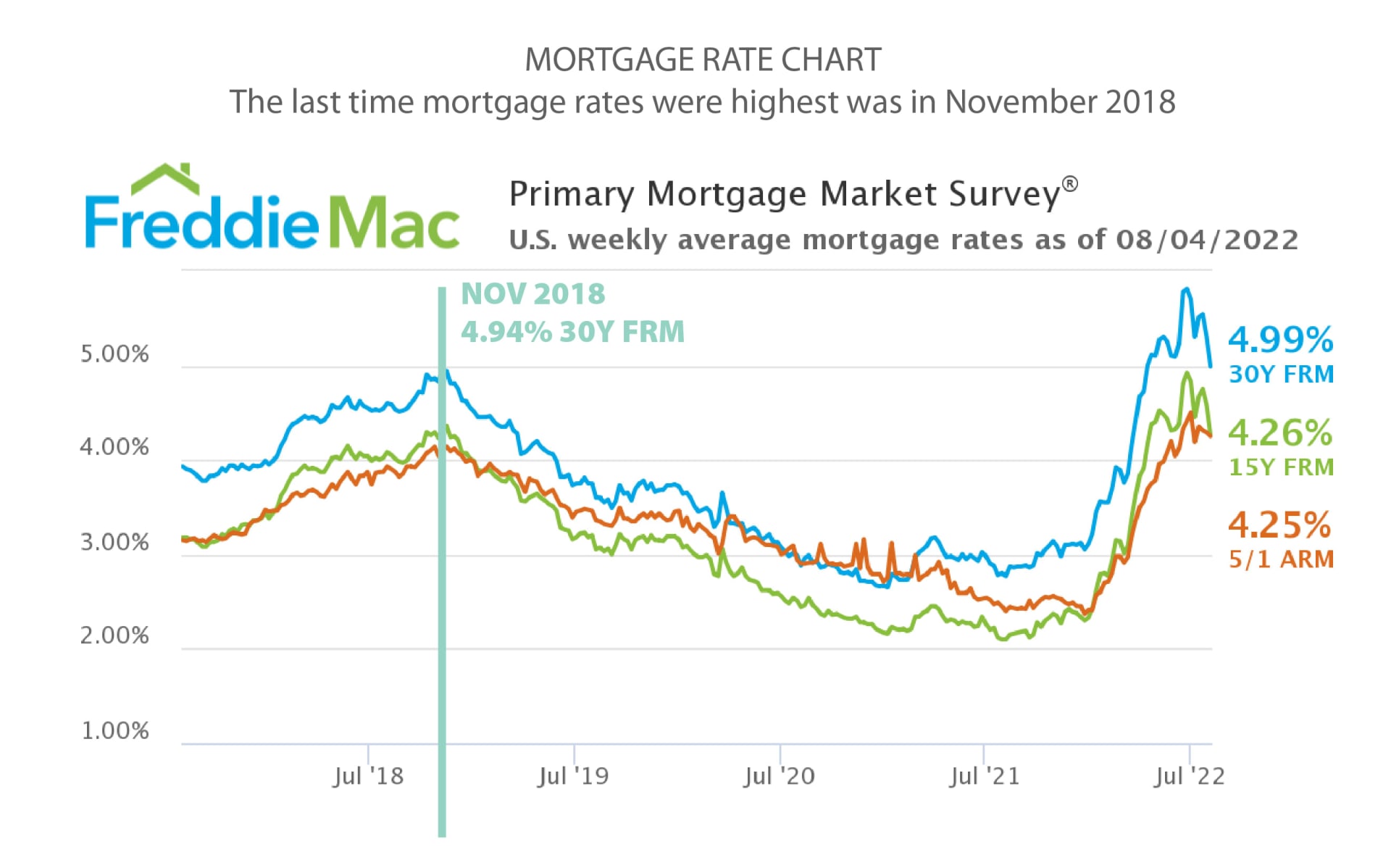 Mortgage rates continued to gradually improve since the Fed hiked rates by .75% in both June and July. Since the Federal Reserve's short term rate hikes in June, long-term home loan rates have appeared to make their peak around the same time. The Fed controls short-term rates like credit cards and car loans and their recent rate hikes are intended to cool inflation. I just found out today that mortgage rates have declined and the stock markets saw large recoveries over the past month. It is interesting to note that mortgage rates are about the same as they were November 2018 which was the last time they peaked. Given this is all variable with the current high inflation and slower economic growth, now is a good time to buy with prices and rates off the highest levels of late. As of now, It's hard to say if we'll see another downtick given inflation and a fickle economy.