You can expect to add roughly 7% to a home's value with rooftop decks as an outdoor amenity. That number can increase into double digits if the deck ends up framing stunning city or bay or ocean views. Should you list your home for sale, expect it to garner a lot of attention thanks to your commitment to improving its usable outdoor spaces.
3. Increase Your Home's Interior Space
Given San Francisco's unique topography and mix of various housing types, increasing a home's usable square footage is by no means a simple task. In many instances, it can cost a homeowner north of $100,000 or more, but it can be done.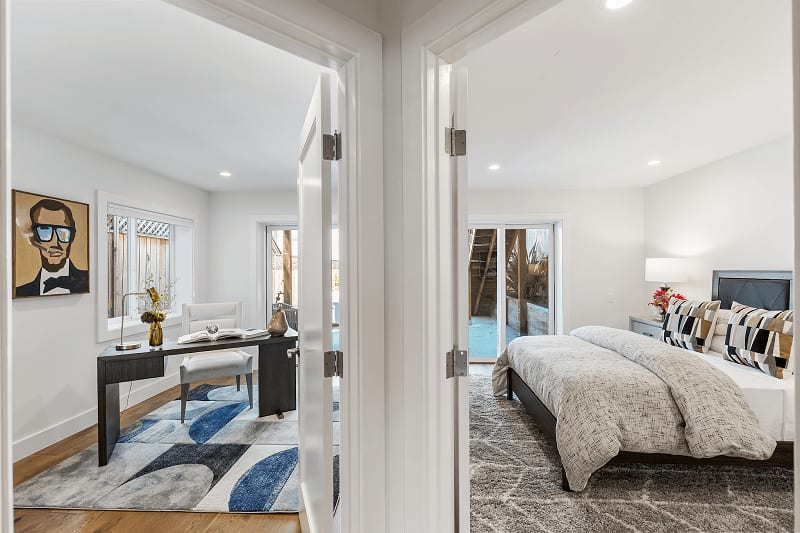 Repurposing a ground-level utility room with a home office and an additional bedroom
Basement excavations or the addition of an accessory dwelling unit are not uncommon in the Bay Area, including the densest areas in San Francisco neighborhoods. Though they may prove costly and time-consuming, these home improvements are worth it for many Bay Area residents. Additions to your home add a lot of flexibility, providing an extra bedroom for a family running out of space, a baby or playroom for those with a newborn on the way, or a home gym for those with an active lifestyle. This
extra room
could also be transformed into one of the most sought-after commodities in a home during the recent pandemic: a home office. In the case of the accessory dwelling unit, that extra addition can even double as rentable, income-earning space that will eventually pay for the expansion and then some.
Not every Bay Area home possesses the space for expansion, but many carry with them an opportunity for reconfiguration. A too-small bedroom might stage better as a cozy office. That awkward den may better serve your needs as an office, home gym, playroom, or flex room for all three. Have an unrealized basement or attic area? Finish them out to provide your home a room it doesn't already have. In the case of the basement, adding a laundry room here will prove immensely popular in today's market.
Whether you're doing it for your own enjoyment of the home or an eye toward selling, always examine what might make the house better, more livable. If you're planning to list, research what most buyers are looking for, and tailor your home's new spaces to their needs.